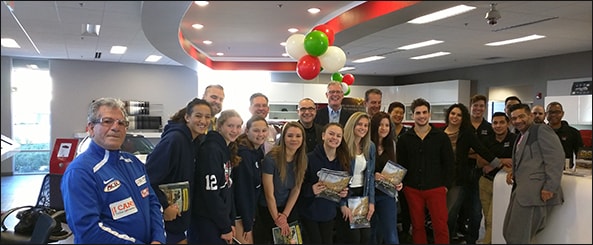 Jan 9, 2016 was officially declared, FindlayFIAT Day by City of Henderson Mayor Andy A. Hafen. On hand to receive the award was General Manager, John Saksa, who accepted the honor on behalf of the Findlay Fiat team at the Las Vegas Valley Auto Mall. In addition to the Mayor, Congressman Joe Heck sent his District Director, Ken Minster, to acknowledge the contributions of Findlay Fiat to Henderson, Nevada economy and community. Our friends at the Italian American Social Club brought boxer, Phil Lo Greco who lit up the room with his Italian Swag.
Girl Guide to Car Care Puts the Ladies in Charge
Our Findlay Fiat Day brought the Coronado High School Lacrosse Team to our Service Department for the Girls Guide to Car Care. Service Advisor, Brian Arreola and his award winning auto body team, presented the basics of car care to the young ladies of the Coronado High School Lacrosse team. The team learned everything from checking fluids to changing a tire. After completing the course, Lydia Toscano-Corbett and Judy Lapan of Mutual Liberty gave a class for first time car buyers. The girls then competed to win Findlay Fiat gift bags full of Fiat Valley Auto Mall merchandise and an iPod Mini Shuffle for the lucky winner to create a playlist perfect for driving a new Fiat 500!
The Fiat Fashion Crowd Launches Fubarth
Findlay Fiat has partnered with Mingo Kitchen & Lounge to launch its Premium Tequila, Fubar. We couldn't think of a better way to express the smooth, yet powerful, spirit of Fubar than to combine it with our smoothest and most powerful car, the Fiat Abarth. Hence, FuBarth. The night was a great success with DJ Devi Dev spinning Soulful House while Fashion Feed LV, the hippest fashion magazine in Las Vegas, provided the beautiful people. As part of our commitment to the community, we also raised money for the Nevada Youth Network with the raffle of a Findlay Fiat at the Valley Auto Mall Swag Bag. Big thanks to BLVD Magazine for delivering invites and helping build community in Las Vegas .
BLVD Magazine Lets You Know the Best Places to Drive your Fiat in Las Vegas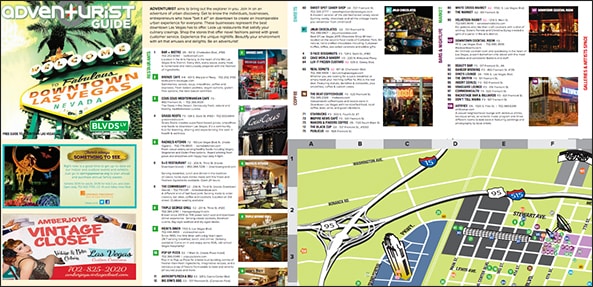 Our friends at the best little Las Vegas source of local info BLVD Magazine have come up with their Adventurists Guide to let you know all the coolest places in Downtown Las Vegas. Check it out, then hop into your Findlay Fiat and hit the streets. Here are ShaRhonda Ramos' of BLVD Magazine's picks of the week:
Have a Las Vegas date night and a wonderful Italian meal at Chicago Joes. 820 S. 4th Street. A Vegas landmark that serves some of the best Italian food in town. Open 11am-11pm
Shop till you drop at The Hub in Container Park. Open at 11am everyday featuring some of the most unique gift ideas and accessories you've ever seen! 707 Fremont Street on the second floor.
Visit an actual Las Vegas book store with real books, magazines, a bunny rabbit, and an artificial bird sanctuary. The Writers Block has an interactive children's' section, new releases, and they can and will order books for you if they do not have them available. 1020 Fremont Street #100
After a visit to the bookstore, you may need to refuel. Jump right next door to Chow, the new hot spot for lunch and dinner brought to you by Chef Natalie Young. The menu is a mix of southern style soul food and Chinese cuisine. Absolutely delicious and well worth the trip downtown.
Findlay Fiat at the Valley Auto Mall Launches its 2016 Culture and Community Series of Events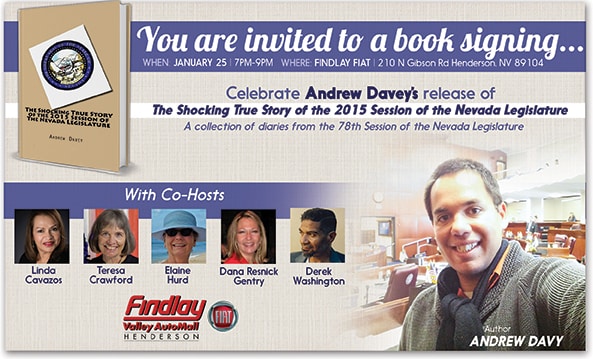 Noted Nevada Blogger, Andrew Davey is releasing his first book, The Shocking True Story of the 2015 Session of the Nevada Legislature and Findlay Fiat will be the site of the book launch. Hosted by Las Vegas television personality, Dana Resnick, the evening will be a night of insight in to how our legislative process works from behind the curtains. Refreshments will be served.
The Shocking True Story of the 2015 Session of the Nevada Legislature
January 25th 2016, 7-9:00 pm | Findlay Fiat 201 N Gibson Rd, Valley Auto Mall Henderson , Nevada 89014